-I haven't been shopping for clothes since the early part of December. I can't believe it! Anyone who knows me is probably gasping right now. Yes, it's true!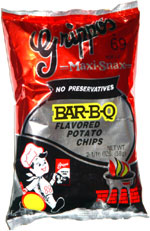 -Now that I'm in Ohio (yes, I'm revealing my 'secret location', lol) I'm finding myself addicted to Grippos. What's in these things? Crack?
-I never fulfilled my dream of singing karaoke. Maybe one day we'll have it at a sister's party. If we do, I'm Taylor Dayne, Betty Wright and Bob Marley- live on stage. Uh-huh.
-I don't think I can give up listening to music. And I'm not even sure if I believe ALL OF IT is haram. (And no it's not up for debate, paste all the Hadith you want, the sad fact is that I'm just not there).
-Speaking of music, Jordan Sparks is growing on me. One day I found myself singing along to "Like a Tattoo." Then it was on my mp3 player. I can still proudly say I've never watched American Idol though...
-Why are people acting like Barack Obama is the great savior? A mahdi come to earth? Is it because we need to have hope? Is it because Bush is a living, breathing nightmare? Do we want to have faith in politicians so bad that every single time there is an election we think we've found "the one"; that special politician who will make good on all of their promises? Am I the only one who doesn't trust politicians? (It's the Jamaican in me, I can't help it).
-I had a job interview this week and another one next week. Insha'allah something will bite. Though I'm catching up on a lot of reading, I'm starting to get really bored being at home.
-I have too many hijabs. It's ridiculous. I can't even walk into the closet without a bag of them falling on my head. The other day I was digging through my things and found yet another pile of hijabs. Did I go crazy or what?
-When sisters stop wearing hijab what do they do with their hijab collection?
-I miss my family. I can't wait to go home in May insha'allah. Hopefully my sister and I are taking my mom to the
Ebony Fashion Fair
again. Last year she really enjoyed it.
-Speaking of family, my mom's birthday is on the 29th. There's no getting around giving her a gift. Trying that "I'm-Muslim-I-don't-celebrate-birthdays-thing" doesn't work in my family. I think it's fair given that no one pressures me about major holidays like Christmas or Easter. My mom already showed me the diamond earrings she wants for her birthday. She liked them so much I didn't have the heart to tell her that I've made the decision to never purchase diamonds again, insha'allah. Maybe I should send her a copy of the movie "Blood Diamond" and an article I read about the diamond industry. You think she'll understand? I don't know...she says if she had enough money she'd buy a fur...